Oswestry Balloon Carnival- Ascension Cider Festival
August 24, 2019 @ 12:00 pm

-

August 25, 2019 @ 10:30 pm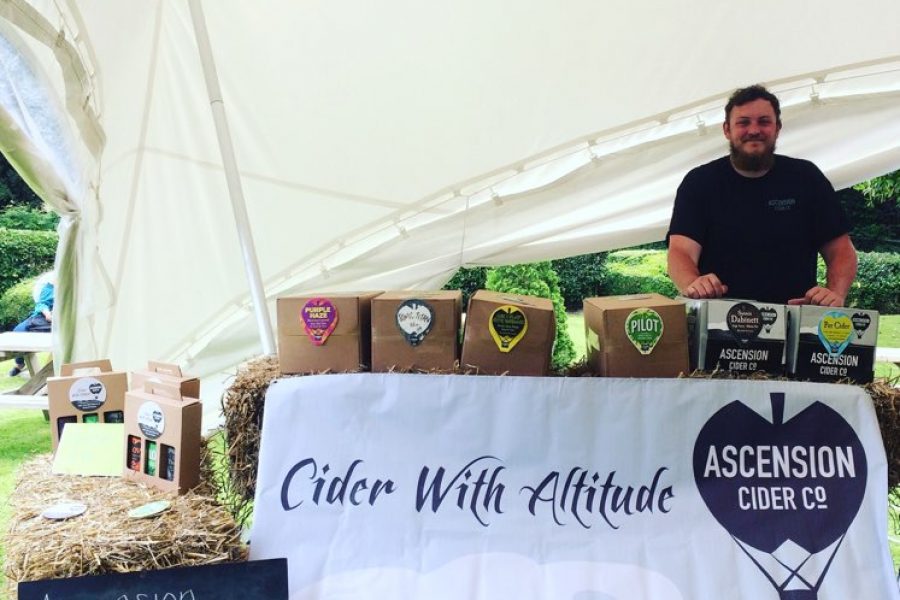 Matt Billing who makes Ascension Cider in Sussex is a keen hot air balloon pilot and is sponsoring the Oswestry Balloon Carnival flyers this year. We will be having a small cider festival in The Bailey Head with a range of his cider, perry an flavoured ciders during the festival. All ciders will be £3.60 a pint.

SUSSEX DABINETT 6% ABV
A west-country style cider made with fruit grown in Bodiam! This single variety cider showcases the quintessential cider apple "Dabinett". Dry, tannic and funky. This is one for the purists.

PILOT 4.8% ABV
Super Tasty Session Cider! – This is our original and best selling cider. Wild fermented cider blends with freshly pressed apple juice to create a refreshing and fruity blend.

MOTHERSHIP 6% ABV
A stronger blend than Pilot, with a drier edge. A smaller amount of fresh juice is added, meaning the fruitiness is still there, but with a stronger cider flavour.

SONIC TITAN 8.2% ABV
Dry, Heavy Cider. A blend of wild fermented cider and a small amount of juice to round the flavours.

DANCE COMMANDER 4% ABV
A marriage of wild cider, fresh pink lady and sour cherry juice. A fruity little number to get you moving.

SHIMMY 4% ABV
Lovingly referred to as the "Tangbomb" this lip moreish number is awash with tropical pineapple flavours, balanced with a light touch of citric acid from the lemon.

CAN I PLAY WITH MANGOES 4% ABV
Double Indian Mango Cider. A fruity and aromatic blend of wild cider, fresh apple juice, sweet Kesar and aromatic Alphonso mangoes join forces to create a silky smooth tropical cider.

PURPLE HAZE 4% ABV
A Blackcurrant Lemonade style Cider. This tart and fruity glass of purple is a blend of wild fermented cider, fresh apple, blackcurrant and lemon juices. A refreshing alternative to overly sweet fruit cider.
CHAMPING AT THE PIT V.2 4% ABV
Wild cider, fresh apple and peach juices combine to create a soft, juicy cider, perfect for the late summer heat. A proper summer smasher.
REVERIE 4% ABV
A single variety, wild fermented Bramley cider. Unblended and unsweetened.
Loads of fresh green apple flavours, backed up by a big hit of fresh tart acid. Notes of the wild lacto and Brett strains dancing around the palate mean this is a must for Dry cider heads and sour beer lovers alike.