Meet the Brewer – Electric Bear
October 31, 2019 @ 8:00 pm

-

10:00 pm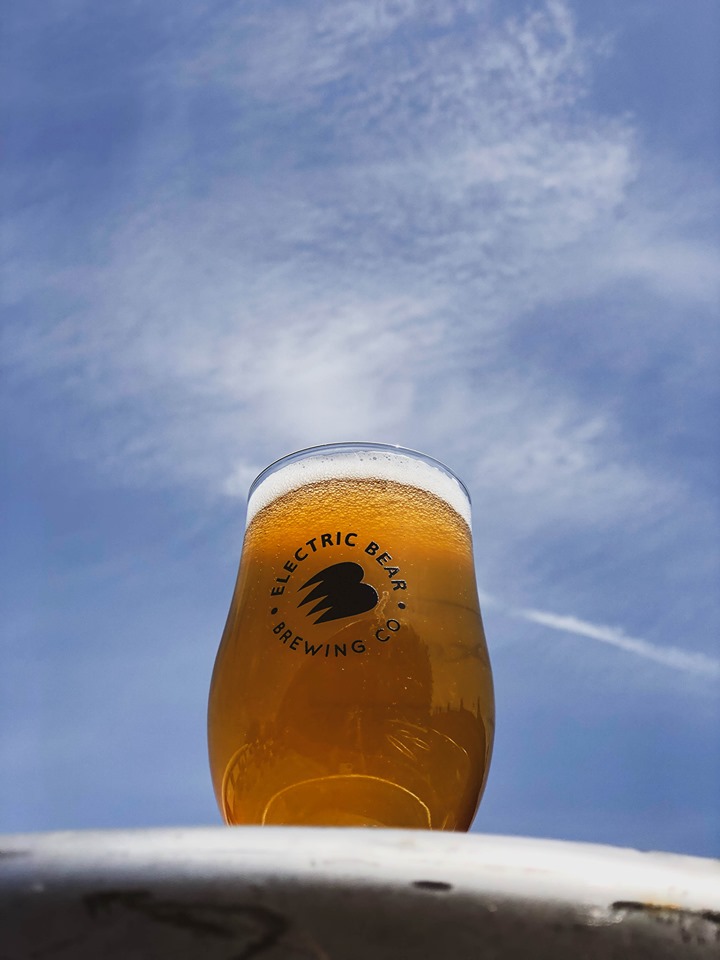 Meet the Brewer with Electic Bear from Bath. The beer list:
Cask
Comet  3.8%
Brewed specifically for cask with US Comet hops. Zesty with grapefruit and oh so crushable. This beer shows how good cask beer can be.
Werrrd! 4.2%
Malts: Pale, wheat
Hops: Centennial, Citra, Mosaic
Yeast: House
Our immensely crushable pale is brewed with some of our favourite fruit-forward hops. Bright aromas of pink grapefruit, mango and orange rind follow through into the flavour that ends with a piney and zippy bitterness.
Werrrd on the Beach 4.6%
We got together with our pals over at Beatnikz Republic once again to create this hugely tropical and sessionable APA. In very much an 'are you thinking what I'm thinking?' moment, Werrrd! On the Beach was born as we shared cans of our respective American Pale Ales. We combined the balanced and slightly biscuity background of our Beach Bum with the gloriously tropically hopped Werrrd! and created a beer that's easy drinking and absolutely crushable.
Whirly Bird 5.2%
Malts: Extra Pale, Oats, Dextrin
Hops: Chinook, Vic Secret
Is it a bird? Is it a plane? Nah, it's a Whirly Bird!
A zingy little pale, hopped with two of our favourite little cones. Ripe grapefruit, pineapple, apricot and a healthy dose of evergreen pine breeze over the nose. As refreshing as a walk through the trees.
Keykeg
Breakfast Epiphanies – Imperial Breakfast Stout – 11%
An Incredibly limited release of just a handful of kegs of our otherwise taproom exclusive beer. Keg Conditioned for 6 months prior to release this Imperial Breakfast Stout is packed full of chocolate & has picked up subtle redcurrant notes from the otherwise punchy coffee all supported by an Oat heavy malt bill. Massive.
Unfined, unfiltered, unpasteurised. Suitable for vegans.
Malts: Oats, Vienna, Pale, Chocolate, Cara Clair, Cara Blond
Hops: Phoenix
Extras: Muscovado Sugar, Cacao Powder, Coffee Beans
Ever get that feeling of putting something somewhere…only to find it disappears, then mysteriously and unexpectedly turns up somewhere completely different? This beer captures the sweet, juicy feeling experienced when you are reunited with your missing something.
Malt: Extra Pale, Flaked Oats, Naked Oats, Torrified Wheat, Vienna
Hops: Azacca, Citra, El Dorado
Candescence – Belgium Quad – 13%
Keg
Bermuda Triangle – Caribbean sour – 6%
Many people, historians and travellers included, believe that the Bermuda Triangle is located between the 3 points of Florida, Bermuda and Puerto Rico. Little do these people know that actually there's a little bit of the triangle in every brewery all round the world. lightly Tart with shed loads of Grapefruit, Pineapple and Mango.
Malts: Extra Pale, Dextrin, Flaked Oats, Oat Malt, Wheat Malt
Hops: Azacca
Extras: Grapefruit, Pineapple, Mango
Werrrd Up! 7.4%
Over the last few years Werrrd! has built itself a very good reputation as our core American Pale Ale, however brewers being brewers we like to always make things bigger and better. Allow me to introduce Werrrd Up! AKA Werrrd!'s big brother. Along with upping the ABV, we've also upped the hopping rates making this IPA a real juicy little number. Unfiltered, unpasteurised natural beer. Suitable for vegans.