You would be forgiven for not having a clue where Finchampstead is. Finchampstead is a village Berkshire. Its northern extremity is 2 miles (3 km) south of Wokingham, 5 miles (8 km) west of Bracknell, 8 miles (13 km) south-east of Reading, in the 2011 census it had a population of 668.
It also, in an industrial estate on the village border, has two of the best craft breweries in the country, the excellent Elusive Brewery, who have held a meet the brewer at the Bailey Head, and literally just across the road the larger but also excellent Siren Craft Brew.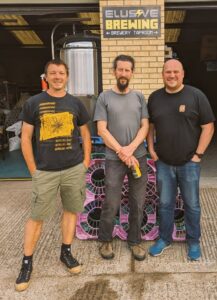 So we have a couple of events coming up featuring the two breweries, and some collaborators.
First up, on Tuesday, 18 July we will be putting on a very special beer (in Keykeg). Brewed at Elusive for the 50th birthday of Elusive Brewer Andy Parker, Destination IPA is a collaboration of what are arguably the best three brewers in the country (and we would argue they are best three), Andy, Mark Tranter from Burning Sky and Evin  O'Riordain from The Kernel. We are very lucky to have got some of what is a very limited beer.
Also on 18 July we will have Macaroni Ted, a 5.2% cask West Coast IPA brewed by Ossett with Andy from Elusive.
We have some other Keykeg Elusive beers coming in, details at the bottom of the page, so keep an eye out for announcements for them either appearing on 18 July or at the Siren event on 3 August…
On Thursday, 3 August we will have a Siren Tap Takeover, and hopefully someone from the brewery coming along. The provisional planned lineup of beers is:
Cask
Suspended in… Hazy Pale 4% Suspended in… beers are an experimentation of hop rotation and different ingredients to create varying flavours and combinations from what is essentially the same beer. The beers often serve to highlight the wonderful little differences in flavour and overall experience you get between keg and cask creating an exciting and evolutionary drinking experience.
Broken Dream Breakfast Stout 6.5% An indulgence of chocolate and speciality malts, Broken Dream is smooth, unctuous and moreish. It's brewed with milk sugar for balance and mouthfeel, along with carefully selected espresso from London's Climpson & Sons. Awarded CAMRA Supreme Champion Beer of Britain 2018.
Keg
Lumina Gluten Free Session IPA 4.2% Lumina is our shining light, glowing with juicy tropical fruit notes. Hoppy aromas of mango and pineapple guide you towards explosive flavour, flashes of delicate citrus highlights and refreshing balanced bitterness. Our epiphany of a session beer drinks with a pillowy soft mouthfeel and pours with a beautiful light haze.
Keykeg
Super Gold Finger Discount Collaboration with Newbarns Mosaic Pale with Cedar wood 4.8% Using the Siren spinbot, the 100% Mosaic dry hop and bright, spicy Cedar Wood of Middle Finger Discount is layered into the drinkability and premium crispness of Super Gold.
Soundwave IPA 5.6% Welcome to tropical hop heaven. Soundwave is eminently drinkable, full of flavour and subtle with bitterness. Our most famous beer pours with an inviting haze, while big-hitting American hops deliver fruit notes in abundance and a trademark resinous finish.
Slam Duck DIPA 8.0% Collaboration with Duckpond Brewing As Nikola from Duckpond Brewing was in the UK with his band Millencolin, big fans in the Siren team lined up this special collaboration. Our punchy DIPA is loaded up with Mosaic, Citra and Strata CGX for big tropical fruit character, harmonised by stone fruit notes from our house yeast. Fresh & juicy.
We also have the following Elusive Keykegs coming in which may appear at the Elusive event, or the Siren Event, or neither… keep an eye on our social media/Mailchimp:
Korben Citra Pilsner 4.5% KORBEN is a clean and refreshing Pilsner-style Lager. A simple but satisfying beer, brewed with 100% British Lager malt, Yakima Valley Citra hops and a hybrid Lager yeast strain. Expect a bright and crisp beer with subtle citrus tones.
Corvalis DIPA 7.4% Brewed in collaboration with Brighton based UnBarred, this is an old school IPA with a big focus on hop flavour and punchy bitterness. Crystal, Magnum and Citra hops bring notes of pithy citrus, pine resin, subtle spice and a big, bitter finish that keeps you coming back for more. This beer pours bright and clear with a deep golden colour reminiscent of a northern California sunset.
Barrel Aged Imperial Morrisman 11% Bourbon BA Imperial Chocolate Stout brewed in collaboration with Emperor's Brewery.