Friday, 28 April. All day. We have a double event!
Firstly.
We will be celebrating Turning Point brewery's birthday with their birthday custard series beers on tap, plus a takeover of their casks.
Yellow Matter Custard (6.0 Vanilla Wheat Pale)
The original. Sweet, chewy, and loads of fun. This pale ale is loaded with vanilla, wheat, and lactose. As close as you can get to custard without getting your eyes wet.
Pink Matter Custard (6.0 Raspberry Dessert Pale)
The recent favourite. Is it beer? We're not sure, but it is certainly delicious. Thick and chewy, loaded with vanilla, and fresh raspberries.
Death Matter Custard (14.0 Chocolate Custard Imperial Stout – collab w/ Northern Monk)
The new contender. The even bigger brother of Dark Matter Custard. A chocolatey and sweet dessert stout with a huge addition of vanilla. Stronger, darker, chocolatey-er, custardy-er.
In cask:
Astral Voyager 3.4% Session NEPA
Infinity Land 3.9% Session Pale
Venture Beyond 4.8% Pale
Magnificent Gestures 6.5% NEIPA
Howling At Clouds 4.4% Oatmeal Stout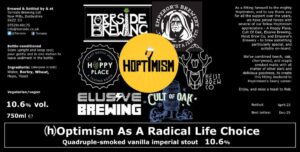 Hoptimism As A Radical Life Choice
Quadruple-smoked vanilla imperial stout
10.6%
Our second beer event of the day. As a fitting farewell to the mighty Hoptimism, and to say thank you for all their support over the years, Torrside have joined forces with fellow beer heroes A Hoppy Place, and some of their absolute favourite breweries – Cult Of Oak, Elusive Brewing, Emperor's Brewery, and Heist Brew Co – to brew something particularly special! Combining beech, oak, cherrywood, and maple smoked malts, with all matter of other dark and delicious goodness, the result is a rich and luxurious quadruple-smoked vanilla imperial stout. Launching in keg and bottle here on 28 April.