In July we have two beer events, featuring 3 beer launches including our collaboration brew with Castle Rock, another Castle Rock cask and and two Emperor's collaborations.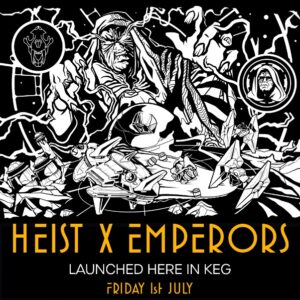 On 1 July from midday we are delighted to be one of the 14 bars chosen for the launch of Rumthing Rumthing Darkside! This 11% Rum Barrel Aged Salted Caramel Imperial Stout is a collaboration between Heist Brewery and Damian Doherty the Emperor's brewer.
We are very excited about our event on 13 July. Time TBA but about 8pm.
This is a double headed Meet the Brewer and Tap Takeover with Castle Rock from Nottingham and Attic from Birmingham. The beer list, so far is: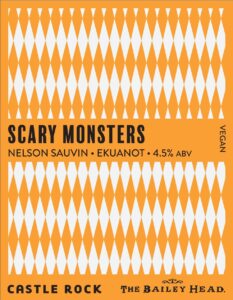 First up is Castle Rock X The Bailey Head Scary Monsters – we went to Castle Rock on Monday and brewed this collaboration between us and them as part of their Pilot Project. We are honoured to be the first collaborators in the Pilot Project who are not another brewery. The beer was brewed to a recipe by Grace, who chose the hops, yeast and malts. It is a 4.5% New England Pale Ale using Nelson Sauvin and Ekuanot hops. It will be hoppy, juicy and hazy and Vegan friendly in cask. The first pours of the beer will be on the night of the Meet the Brewer.
The second first pour will be of Castle Rock Just Can't Get Enough. All we know so far is that it will be 4.1% and Vegan.
Other casks on the night will be:
Castle Rock X Neon Raptor Cabazon a 4.9% West Coast IPA. Plenty of Chinook, Citra and Nelson Sauvin hops are balanced by sweet and robust Golden Promise and Vienna malts. Notes of gooseberry, grapefruit and pine are backed up by sweet, biscuity flavours, and followed by an assertive bitterness.
Castle Rock Let England Shake 4.2% Brewed in celebration of the 2022 UEFA European Women's Football Championship, Let England Shake is a pilsner style cask ale, made using 100% UK grown ingredients.
Castle Rock Oatmeal Stout 4.6% Rich, rounded and full with aromas of dried fruit and marmalade followed by deep coffee, caramel and chocolate fudge flavours.
Moving onto keg
We will have the three year barrel aged version of Castle Rock X Emperor's Storming the Emperor's Castle 12.5% Imperial Stout. Keeping up a record of having every version of this beer!
Then from Attic we have:
Intuition Pale 4.4% in Keykeg Hazy and juicy, flavours of pineapple and ripe peaches with a touch of pithy bitterness on the finish.
Signals IPA 5.6% in Keg Citrus and stone fruit flavours, leaning towards grapefrult and apricot with more than a hint of blackcurrant. A litte bitterness helps give structure and depth.
Tuck Shop Rhubarb and Custard Sour 6% originally brewed with Castle Rock. Tastes of sour, stewed rhubarb after a Sunday dinner with a small dollop of custard on top. Not half the can that you put on there as a child, but a restrained adult amount. Keykeg
Musette Table Beer 3.5% Brewed with Birmingham Bike Foundry to be the perfect post-ride beer. Delicious, refreshing and importantly low enough ABV to still cycle home after a pint or two. Keg
Big Sur DIPA 8.5% Using a wide range of classic West Coast "C-hops", the resulting beer has deep, rich flavours of pine and grapefruit, bursting from a caramel-sweet malt base and balanced by a big whack of bitterness.
Very Important Chocolate Caramel Digestive Stout 5.6% An homage to one of the brew team's favourite biscuits! Expect lots of malty, caramelly goodness with a lovely chocolate finish. Your afternoon cuppa has never been such fun! Keg