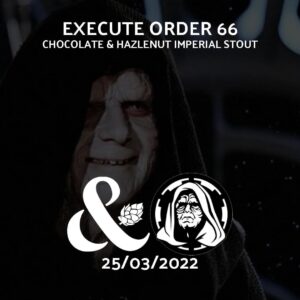 On 25 March from 6pm we will be hosting a Tap Takeover of beers from Ampersand Brew Co in Norfolk and taking part in the launch of their latest collaboration with Emperor's Brewery, Execute Order 66 in cans.
The expected full list of beers is:
Can
Ampersand X Emperor's Execute Order 66 Chocolate & Hazelnut Imperial Stout
Cask
Ampersand 1870 Runner 5.1% A porter brewed to a traditional 1870's recipe using Pale, Brown and Black malts for heaps of roasted coffee, dark chocolate and toasty flavours. Vegan
Ampersand Sand & Sea 5.2% Brewed in collaboration with Leigh on Sea Brewery this is our take on an Extra Special Bitter. A combination of crystal malts give big toffee & stone fruit flavours whilst a hit of late Bramling Cross hops packs it out with notes of blackberry & spice. Vegan
UK Chinook 4.3% Single hop cask pale ale series focusing on the UK Chinook hop grown by Brookhouse Hop Yard bringing grapefruit and citrus notes on a classic cask pale base. Vegan
Keykeg
Dulce 7.0% A big bodied stout inspired by the caramel & milk flavours of dulce de leche combined with classic stout notes of rich dark chocolate.
On The Wing 4.5% A hop forward pale ale brewed with malted oats combined with heaps of late Amarillo, Citra, Ekuanot & Chinook hops. This beer gives big tropical citrus flavours with a soft juicy mouthfeel. Vegan
Keg
Feld 4.0% A take on an easy drinking Helles style lager beer. Munich malt helps accentuate the body giving it a classic malt base supported by the combination of Tettnang & the more modern Mandarina Bavaria hops. Vegan, Gluten Free